If you are looking into getting a Virtual Office package and want to find the one that's right for you, then hopefully this will help you to establish whether our Business Professional package is the one for you.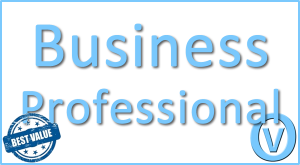 Is the Business Professional package suitable for me?
If you are looking for the complete package then this is the virtual office solution for you. Our competitively priced Business Professional package is targeted at anyone that is seriously looking into growing their business. Whether that involves having somebody manning the phones on your company's behalf 9-5, Monday to Friday, or if you are based elsewhere in the country and you are looking to break into the local market, this package is suited to you and your business.
What do I get in my Business Professional package?
Below are all of the benefits you would gain from taking out a Business Professional Virtual Office package with Venture Offices:
Your very own company telephone number
Calls answered in your company name
Telephone messages taken and forwarded
Fully staffed reception to meet and greet your customers
Preferential booking of meeting rooms with a 20% discount
Administrative services (subject to additional charges)
How would this benefit my business?
Our Business Professional package is designed to help you to grow your business. On top of all the benefits that our Business Starter features brings to your business (including a registered business address in the heart of Boston and your company information and web address on our website), your company will never miss an enquiry again with our professional package.
Having your own Boston number will also enable you to reach out as a local business to thousands of new perspective customers. On top of all this, your preferential meeting room rate means that you will be able to have professional meetings with your perspective or existing customers in our stylish meeting room for as little as £8 an hour.
Where do I go from here?
You have four options. You can either:
Find out about building your own Virtual Office package.
Call us on 01205 809 222 and we should be able to answer any questions or queries you may have.